COMPANY INFO
Crucial Power Products was founded in January 1997. The charter for our company is the design, engineering and manufacturing of Central Lighting Inverters.
All of our Inverters comply with the UL 924 Life Safety Code. This code requires all public facilities to provide 90 minutes of egress pathway illumination to allow occupants to safely evacuate during a power outage. Crucial Power is part of a privately-held group of manufacturers, and the parent transformer company was first established in 1975. Some facilities are located on a 5 acre site south of Los Angeles, CA in facilities totaling over 140,000 square feet. Our new CPP facility is at 14000 S. Broadway, Los Angeles, CA. The self-contained manufacturing plant is capable of production from start to finish, and all products are certified to ISO-9001 standards to assure the highest quality and performance. The administrative facility houses highly experienced engineering, sales, accounting, technical and customer service staff. Crucial Power offers the most diversified Central Lighting Inverter product line on the market today. Standard features include: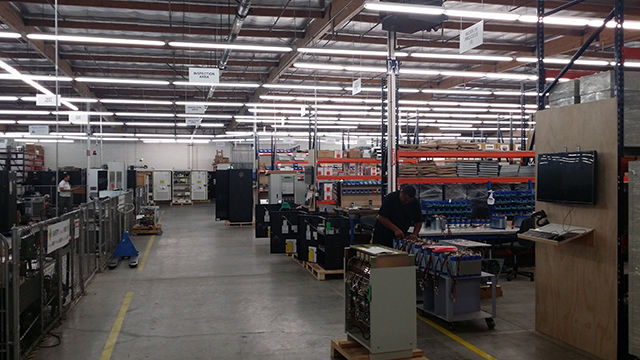 latest technology
---
Double Conversion or Fast Transfer "no-break" transfer of power
Pulse Width Modulated (PWM) design for true Sine Wave output
Compatible with LED, fluorescent, incandescent and HID lamps
Small footprint, modular design enclosures
Sealed maintenance-free lead calcium batteries
Advanced self-testing and monitoring systems
Listed to UL 924, UL924A and UL 1778UPS by CSA
Crucial Power leads the industry with many exclusive products, including:
Lite-Wave: Wall Mountable Central Lighting Inverter range from 200 to 490 Watts.
EconoSine II: the most compact (23.5" x 34.25" x 18.25") self-contained 500 Watts to 2100 Wattt Inverter available
Wave Rider family: full range of latest design Inverters in 2100 Watts to 400 KW sizes, wide array of options, single and three phase models
HEU: the outdoor and hostile environment Inverter built for remote, vandal-prone, and harsh weather locations
Monitoring: from basic local monitoring to advanced systems for remote monitoring and reporting via phone, fax, e-mail, pager or the internet worldwide
Crucial Power Inverters are in operation throughout the US in a wide range of applications, including retail stores, schools & universities, office buildings, hospitals, restaurants, banks, movie theaters, hotels & motels, airports, railroads, subways & tunnels, prisons, military bases, shopping centers and manufacturing plants.
Crucial Power Products will provide you with the latest technology Inverter systems built to the highest quality standards, competitive pricing, rapid delivery, and top notch service from quotation through start-up.